Transfer Cart For Sale In Malaysia
Transfer trolley from PEREFCT manufacturer is more hot sale in Malaysia, which has two main reasons, one is PERFECT transfer trolley is a professional material handling equipment manufacturer with 15 years of experience, which has high R&D ability, and you can receive customized industrial transfer trolley for your unique workshop environment; Another is that Perfect is a transfer cart manufacturing factory, there is no dealers' interest from our factory to your work site, you can save more costs and efficiently improve production efficiency. There are several types of transfer trolleys for sale from Perfect manufacturer, before purchasing a transfer trolley, it is necessary to show your unique needs. If you are finding one heavy load transfer cart, you can contact us for details now.
Material Transfer Carts

Material transfer carts also called material transfer trolleys are used to transport materials, heavy-duty, and die within an installation or between different locales. They generally have a platform and are mounted on wheels or casters for easy movement. Material transfer carts are designed to be durable and protean and can be customized to meet the specific requirements of different operations. They can be used to transport heavy or big particulars that would be delicate to move by hand or to transport accouterments over long distances or through narrow aisles.
Some common uses of material transfer carts include:
Transporting heavy loads to construction spots
Transporting materials and heavy loads in the dockyard
Moving heavy or big particulars within a sanitarium or healthcare installation
Transporting goods and inventories within a retail or distribution center
Moving materials and inventories within an exploration or laboratory setting
Moving materials between different areas of a manufacturing installation or storehouse
Common Types of Material Handling Equipment
Owing to our client's different needs and material handling solutions, 8 types of material transfer carts have been shown. including BWP trackless transfer cart, BXC battery rail transfer cart, BHX busbar powered rail transfer cart, BJT cable reel powered rail transfer cart, BTL towed cable powered rail transfer cart, BDG low-voltage rail powered transfer cart, BP no-powered transfer cart, RGV, AGV., etc. And there are also some like rail turntables, lift platforms, rails, wheels, and accessories.
Trackless transfer cart BWP does not need rails, it is powered by a battery, cable, and generator, and it is a device for material handling within the facility or between different facilities. Through remote control, Trackless transfer cart can achieve 360-degree rotation and flexible operation. All carts are equipped with safety warnings and safety monitoring devices, which will immediately alarm and stop automatically when encountering pedestrians or obstacles. Depending on specific application requirements, trackless transfer carts come in different power supplies, sizes, capacity loads (common 2t, 5t, 6t, 10t, 20t), and additional features, including a lift platform, U-shaped frame, V-shaped frame, positioning system, robot arm, etc. For application, trackless transfer cart is suitable for transporting large and heavy materials such as steel coils, roll coils, machinery, mold, and raw materials. According to the specific handling materials and handling environment,
trackless transfer cart comes in several detailed types like
Heavy duty die transfer cart
Battery power trackless transfer cart
Cable power mold trackless transfer cart
Forklift Towed Transfer Trolley On Concrete Floor
Custom-built Steerable Transfer Cart on Concrete Ground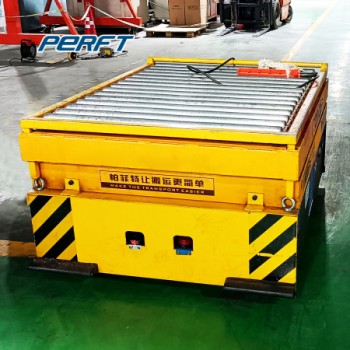 Model: BWP
Capacity load: 1-300T
Table size: Customized
Wheel: Polyurethane solid wheel
Ground clearance: 50mm
Power supply: Battery/ Cable
Charger function: Automatic charging
Running Speed: 0~25m/min
Radar detector: Yes
Radar control :3-0.3m. automatic stop for obstacles
Rail transfer cart series has 5 different types of unique power supplies, including BXC battery transfer cart, BHX busbar powered transfer cart, BJT cable drum powered transfer cart, BTL trailing cable powered transfer cart, BDG rail powered transfer cart. If you need detailed information, you can visit rail transfer cart for sale introduction. To meet specific material handling solutions, several incidental tooling can be added like V-shaped frame, U-shaped frame, roller support, roller, railing, operating table, climbing, fixed-point stop, lifting, anti-rollover, etc.

| | | |
| --- | --- | --- |
| Model | Photo | Power Supply |
| BXC | | Battery power |
| BHX | | Busbar power |
| BJT | | Cable drum power |
| BTL | | Cable reel power |
| BDG | | Low voltage power |
Five different power supply rail transfer carts
Automatic Guided Vehicle AGV is a transport material trolley that uses electromagnetic or optic guidance to walk on a predetermined path, intelligently operates, and doesn't bear drivers to operate. And AGV can be programmed to perform specific tasks similar to loading and unloading, picking and placing, and material running. AGV is designed to ameliorate material running and logistics effectiveness by reducing homemade labor and minimizing the threat of product damage or plant accidents. They can also optimize product and force inflow by operating around the timepiece and adding outturn rates while minimizing staying times and traffic. AGVs are generally used in a wide range of diligence similar as automotive, pharmaceutical, food and libation, and aerospace, among others. They have many types and configurations, including fork exchanges, unit cargo carriers, hitch vehicles, and robot arms.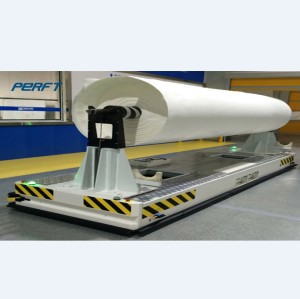 Model: AGV
Capacity load: Customized (common 2T-50T)
Table size: Customized
Navigation method: Electromagnetic
Communication method: WIFI
Running Speed: 20m/min
Climbing: ≤3%
Working hours: 12-24 hours
Power supply: Lithium battery
Scanning radar: Stop immediately when encountering obstacles.
RGV is an AGV with a track-oriented path, they are all automatic transfer cart. It uses tracks to guide and control vehicle movement. RGV is often used in industrial environments, including manufacturing plants, warehouses, and distribution centers to move materials and products between locations. RGV can be designed to carry a wide range of loads, from small corridors to large pallets, and can be customized to fit the specific requirements of the operation. They're frequently used in automated systems to increase effectiveness and reduce the need for homemade labor. Like other transfer carts, RGV can also add additional incidental functions, including a V frame, radial drill, Horizontal and vertical translation, battery power supply, cable power supply, low-voltage rail power, etc.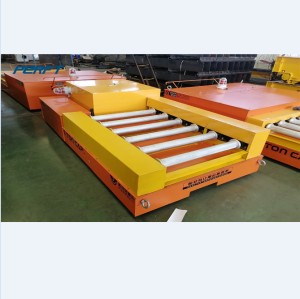 Model: RGV
Capacity load: Customized (common 2T-50T)
Table size: Customized
Communication method: WIFI
Running Speed: 20m/min
Climbing: ≤3%
Working hours: 12-24 hours
Guide method: Rail guided
Power supply: Lithium battery, cable, low-voltage rail
Scanning radar: Stop immediately when encountering obstacles.
Automatic Rail Guided Vehicle Video From Factory

Rail guided vehicle is a rail-guided material transfer cart, which is widely used in material handling in warehouses or workshops. Just like in the video, our technician is testing the machine in the customer's factory, with explosion-proof, waterproof, hydraulic lifting, automatic charging, and other functions.

How Rail Transfer Trolleys Work

Rail transfer trolleys are used to transport heavy loads over a fixed track system. These trolleys are equipped with wheels or rollers that run on the track, enabling them to move along the path without any difficulty.
The operation of rail transfer trolleys is simple. The trolley is placed on the rail, and the operator controls its movement using a control panel. The control panel generally includes buttons for launch, stop, forward, reverse, and speed control.
The rail trolley from PERFECT is powered by battery or cable, busbar, and low-powered rail, which drives the bus or breakers to move along the track. The bus or breakers are designed to reduce disunion and ensure smooth movement, indeed when transporting heavy loads.
Some rail transfer trolleys also feature fresh safety features, like exigency stop buttons and detectors that descry obstacles in the path.
Trolley Supplier Malaysia

Varieties of transfer trolleys from Perfect manufacturer have shipped to Malaysia, including workshop steel tube trackless transfer carts, cable reel transfer cart for transformer plant 90t, die transfer cart for steel, 25t rail transfer cart, high-temperature motorized ladle transfer trolleys, customized hydraulic lift trackless transfer cart, etc. our clients in Malaysia are very satisfied with our trolleys. When you choose a trolley for your materials handling equipment, the following factors needed to be considered.
Quality: We have got CE SGS SASO certificates for our transfer cart, before delivery, your cart will be tested first until you are satisfied with it.
Price: You will be provided with a factory price from PERFECT that is more economical in the same quality.
Customization: You can get customized service from PERFECT, like rollover function, fixed-point stop, positioning accuracy, scanning radar, roller support, climbing, hydraulic lift, V frame, etc.
Delivery time: Usually, your delivery time is 45 days, but for heavy duty and customized function transfer carts, your delivery time is about 60 days.
Customer service: You get professional customer service from PERFECT, including after-sales service.
Reputation: You can trust PERFECT, we have exported to more than 50 countries in the world. including Southeast Asia, the Middle East, Russia, South America, Europe, USA.
PERFECT is committed to being at the forefront of the latest technological advancements in the manufacturing industry. We provide a comprehensive set of material handling solutions designed to simplify your transportation process and help you increase production efficiency. In Malaysia, we have gained the trust of some customers and our industrial transfer trolleys have been shipped to Malaysia, choose PERFECT as your partner in Malaysia, and you can rest assured that you will receive the highest level of vans expertise and service in the industry. Contact us now, and you will get professional technical services and learn more about how we can help you with materials handling solutions.