Material Handling Transfer Trolley
Material transfer trolley is a type of handling equipment used in factories, workshops, and warehouses to transport raw materials, finished products, tools, equipment, and other materials. The purpose is to transport heavy materials from one location to another. Perfect transfer cart has been designed the material handling transfer trolley for any type of industrial heavy handling application. We can manufacture each transfer trolley in a customized manner to suit the actual handling needs of the customer and the handling scenario, but in addition, we also offer standard material transfer trolleys for general needs with no waiting time and are ready to ship.
Benefits of the Material Electric Transfer Trolley
Low noise, easy to maintain.
Can be used both indoors and outdoors.
Can also work with other forklifts, lifting equipment, etc.
Easy to operate, no need for a professional operator, easy to learn to operate.
The transfer trolley runs more smoothly and can handle heavy loads such as steel ladles.
Easier and safer to operate than forklifts that must be manned by professional operators
Our Material Handling Transfer Trolley can be used in almost any type of industrial handling application.
Types of Material Transfer Trolleys
For PERFECT handling equipment manufacturer, there are several types of material handling transfer trolleys available, including battery power transfer cart (rail transfer cart and trackless transfer cart), cable reel power transfer cart, low-voltage rail transfer cart, to meet different material handling solution, our also provide coil transfer cart, die transfer cart, mold transfer cart, ladle transfer cart, busbar powered transfer cart, no-powered transfer cart etc.
Battery Power Rail Transfer Cart
Battery power rail transfer cart also known as electric rail transfer cart or battery-powered transfer trolley is an industrial transport vehicle used to move heavy loads on a fixed track system. Electric rail transfer cart is commonly used in industries such as car manufacturing, mining and heavy-duty equipment, which require the movement of large and heavy loads over long distances.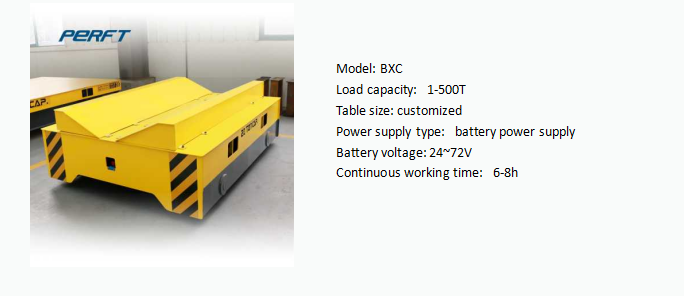 Battery Power Trackless Transfer Cart
Trackless transfer cart does not require a specific rail or track system to move. Transfer trolley is operated by one worker who uses a remote control, and transfer cart can rotate 360 degrees, flexibly move forward, backward, turn left, and turn right. PERFECT battery powered trackless trolley transfer vehicles are commonly used in manufacturing facilities, and warehouses, according to the load, it also is customed for our client's material handling needs.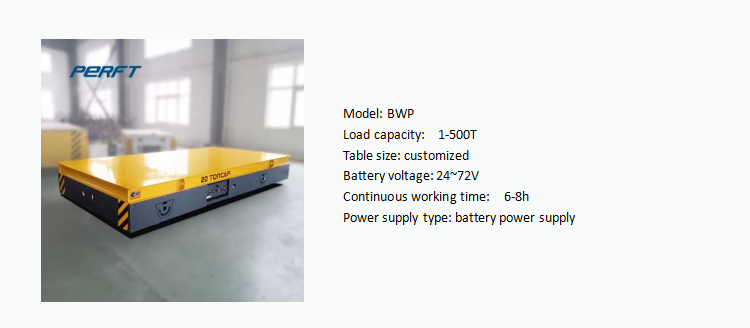 Cable Reel Power Transfer Cart
Cable power transfer cart has two obvious features, one is rail transfer cart, and another is powered by the cabled drum. Transfer trolley is got AC 380V power by cable reel, and is suitable for harsh environments, high temperatures, explosion-proof and other environments, such as assembly line (work piece transport in the workshop, lathe transport), metallurgy industry(steel lade), warehouse transport, ship industry, steel factory, construction, petroleum industry, energy, chemical industry, railway, etc.
Model: BJT
Load capacity: 1-500T
Table size: Customized
Power supply type: Cable power supply
Warranty: 2 years
OEM: Support
Low-voltage Rail Transfer Cart
Low-voltage rail transfer cart has high safety performance: anti-hot, anti-smashed, and does not hinder cross-transportation, it's easy to realize remote control and automation and can drive on curves and roundabouts. The operator can use the wireless remote control to operate the transfer cart which has sound and light alarms, and an emergency stop device when encountering people, which guarantees the personal safety of the operators. It is very convenient in warehouse handling materials. In a word, Low-voltage rail transfer cart can help factory to save labor, save a lot of costs, and create greater profits.
Model: BDG
Load capacity: 1-500T
Platform size: Customized
Power supply type: Low-voltage rail
Color: Customezied
Warranty: 2 years
Application: Steel Industry, Factory, Warehouse, Port
Main Features of Material Handling Transfer Trolley
Capacity: 0- 500 Tons
Power Supply: battery, cable reel, busbar, diesel engine or gasoline
Traction motors: AC, DC, pneumatic, or hydraulic
Type of wheels: Steel / Casting wheel / Polyurethane universal wheel
Dimensions: upon request
Speed: upon request (from 5 m / min to 160 m / min)
Lifting stroke: on request
Command: plc automatic control
Safety devices:  laser scanners, sensitive bumpers, sensitive edges, ultrasonic sensors, end stops, emergency stop, warning horn
Operational environment: indoor and outdoor;-20℃-40℃; special environments such as flammable and explosive; Slope: ≤2.8°
Applications Of Material Handling Transfer Trolleys
You will be provided varieties of material handling transfer trolleys for different uses from PERFECT manufacturer. Some common industries for moving heavy loads include:
Coils
Dies
Steel (Steel Pipes, Steel Plates, Ladle)
Foundry
Warehousing
Construction
Mining and heavy industry
Shipbuilding
Material Handling Transfer Trolleys Can Also Be Adapted To Different Handling Requirements By Adding Additional Equipment To The Platform.
For example:
Material Handling Transfer Trolleys with a platform tilting device can be used to tilt and dump materials.
Material Handling Transfer Trolleys with an additional weighing gauge can display the weight of materials while handling them.
Material Handling Transfer Trolleys with an additional lifting arm can be used to lift materials while replacing an overhead crane.
Material Handling Transfer Trolleys with additional U/V frames or pp guards can handle rolls, bars, and other shaped materials smoothly.
Material Handling Transfer Trolleys with an additional hydraulic lift function can lift materials to the right height for different needs.
Material Handling Transfer Trolleys with additional table rollers can be used for the automatic transfer of heavy materials on industrial lines.
For PERFECT handling equipment manufacturer, we have strong research and development capabilities and production capabilities, if you do not find one that suit your project's need, you can show us your parameters, and our engineers will design a diagram for you.