Trackless Transfer Trolley 10 Ton For Cable Handling
Technical Parameters of Trackless Transfer Trolley 10 Ton for Cable Handling
Load capacity: 10 tons
Table size: 3000*2500*500mm
Tread:: 1800mm
Wheelbase: 2500mm
Power supply mode: battery power
Operation method: Button control + wireless remote control
Running speed: 0-21m/min
Minimum turning radius: 3100mm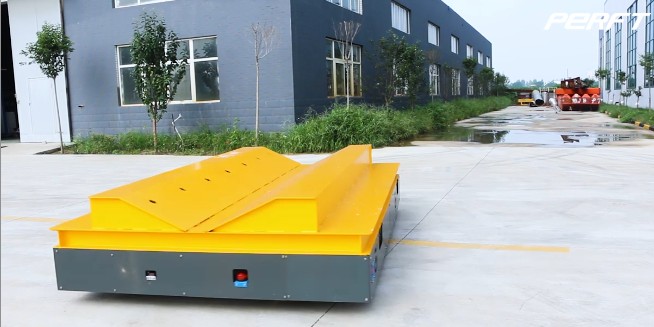 BWP series trackless transfer trolley usually uses batteries, cables, and electric motors as power sources from Perfect Material Handling Equipment Manufacturer, which is widely used in warehousing and logistics, processing and manufacturing, the medical industry, steel plants, the foundry industry, dangerous places, and special places. These transfer vehicles can carry cargo from 1 ton to 500 tons. BWP trackless transfer carts can realize 360-degree flexible turning. There are no physical constraints on trackless transfer cars, such as undetermined destinations, constrained areas, numerous turns, or short distances. It is widely used in various industries. For more details on trackless transfer trolleys from Perfect, you can also read the product series about the Steel Coil Trackless Transfer Cart.
Battery rubber wheel trackless transfer trolley 10t was ordered by Shaanxi ** Cable Co., Ltd., located in Xianyang City, Shaanxi Province, in November 2021. Heavy loads transported by customers are large cable trays with a diameter of about 2–2.5 meters. In order to facilitate the placement of the cable tray, a fixed V-shaped frame is specially installed.
How to Custom Battery Rubber Wheel Trackless Transfer Trolley 10t
Customer's working condition process: When the cable tray and cables are completed, trackless transfer trolley with rubber wheel transports the cable tray from the assembly line to the warehouse, and needs to pass two spans the workshop and the factory gate. Trackless transfer trolley is required to have the function of automatically adjusting the ground.
Detailed introduction of the transported heavy loads: A single cable tray is about 7.5t, and the diameter is about 2-2.5m.
Handling solutions need to be solved during the transportation process: Trackless transfer trolley with rubber wheel should be sensitive, and the turning radius should be within 3.3 meters. Our technicians repeatedly simulated the running route by computer, continuously optimized the configuration and assembly space of the trolley, and controlled the minimum turning radius at 3.1 meters, flexible turning, rubber wheels are wear-resistant and protect the ground from damage, it is a good product in material handling equipment.
It's important to understand the fundamentals of battery rubber wheel trackless transfer trolleys before starting the customization function. Rubber wheel trackless transfer trolleys can be used both inside and outside, without the requirement for tracks, offering mobility and adaptability in the transfer of materials.
Identifying Your Material Handling Requirements
In order to customize a transfer trolley, you must first determine your needs for material handling. Think about things like the kind of products you need to move, the weight of the loads, and how your facility is laid out. The characteristics and features your trolley should have will be decided by this evaluation.
Factors to Design Your Transfer Trolley
Choose the appropriate capacity
Choosing the trolley's capacity is one of the most important components of customizing. Applications requiring medium to heavy duty can use a 10 ton capacity. However, in order to avoid overloading or underutilizing the trolley, it's imperative to match the capacity with your unique needs.
Battery and power system
The performance of the trolley depends greatly on the battery and power system selection. In this article, our customer chose a battery that can power operations for a long time without needing to be frequently recharged. Additionally, take into account whether your facility has charging facilities.
Emergency stop features for safety
Always put your own safety first. Make sure your custom trolley has an emergency stop mechanism that can prevent the trolley's motion in the event of an unexpected circumstance.
Safety sensors
The use of safety sensors allows for the automatic stopping or rerouting of the trolley when it encounters obstructions, hence preventing accidents.
Options for remote control
Consider incorporating remote control options for simplicity of use. This improves efficiency and safety since it enables operators to control the trolley from a secure distance.
Configuration and personalization
Once the specs have been established, work with a reliable manufacturer or supplier like Perfect to customize and set up the trolley to precisely fit your needs. This may necessitate making changes to the trolley's size, power supply, and control mechanisms.
Benefits of Customization of Your Trackless Transfer Trolley
Efficiency boost: By customizing the trolley to your needs, you can ensure that it performs as efficiently as possible, minimizing downtime and delays.
Cost savings: Customization stops the purchase of unused features, thus saving you money.
Enhanced safety: By including safety features into the design, both people and materials can be protected.
Increased versatility: A personalized trolley can change to meet shifting production demands.
Let's respond to some often asked questions now
FAQs
What is the turnaround time for custom transfer trolleys?
The length of time it takes to customize anything can change depending on how intricate the changes are. When requesting a precise timeline, it is better to speak with us.
Are these trolleys subject to maintenance requirements?
Yes, regular upkeep is necessary to guarantee the trolley's continuous dependability and safety. It is advised to have regular examinations and maintenance.
Is it possible to update a special trolley in the future if our demands change?
Many specialized trolleys are made with adaptability in mind, enabling future additions or alterations to meet shifting needs.
What industries can use these customized transfer trolleys?
Custom battery rubber wheel trackless transfer trolleys are used in a variety of industries, including manufacturing, automotive, aerospace, and logistics.
Where may I locate trustworthy producers or suppliers of these trolleys?
To find seasoned manufacturers and suppliers like Perfect Material Handling Equipment Manufacturer, we have 20 years of production and customization experience, and our customers recognize our transfer trolleys and services.
For more types of custom trackless transfer trolleys from Perfect, you can also read another article about Trackless Transfer Carts.