Lifting Platform For Construction Project Vehicle –16T
Handling equipment: Low voltage rail power transfer cart with hydraulic lifting
Capacity: 16T
Table size: 3000mm*2000mm
Wheel diameter: 300mm
Motor power: 2.2 kW
Running speed: 0–20 m/min
Power supply: Low voltage rail power
Operation mode: Wireless remote control
Special requirements: Lifting height is 200mm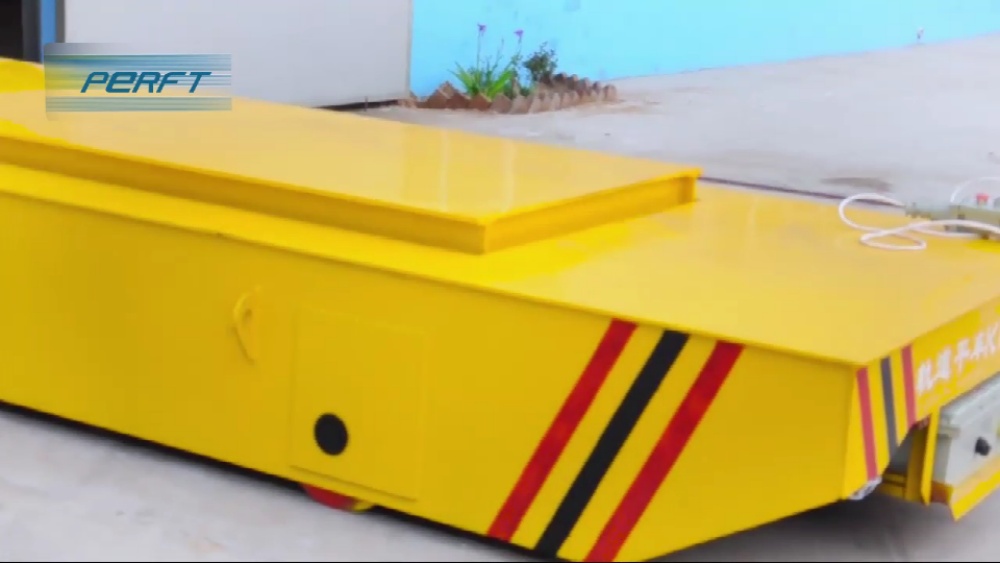 Perfect has produced a system for the construction industry vehicles such as hydraulic lifting transfer cart, rail power transfer cart, battery power platform trackless transfer cart. This article is mainly about lifting platform low voltage rail power transfer cart BDGZ.
BDGZ series is powered by rail, suitable for industrial handling with a low heavy load, high frequency of use, and automatic operation (PLC system), and has been widely used in steel mills, construction, shipyards, the chemical industry, and other fields. It has the characteristics of low heavy load, safety, flexibility, high frequency of use, long service life, and long life. It can be used on S tracks, curved tracks, and high-temperature occasions. However, the rails need to be insulated during installation, the requirements for the laying of the rails are high, and the applicable load capacity is ≤50T. If the running distance exceeds 80m, the number of transformers needs to be increased to compensate for the voltage drop of the rails.
This order of our rail power transfer cart is from a construction company specializing in the development of fully assembled structural systems for modern buildings (including steel/concrete frame systems, wall systems, roof systems, and floor systems), His requirements mainly involve hydraulic pouring. Customer requirements:
1. Needs to be lifted automatically, and the lifting height is 200mm.
2. Accurate positioning is required.
3. Mold steel carried by a transfer cart is used for hydraulic pouring. It stops at each station and puts it down for pouring.
4. Transfer vehicle adopts wireless remote control to realize remote operation.
After continuous communication between the two parties, the technical agreement was finally finalized. At present, rail power transfer cart has been put into use.
For more questions about the lifting platform vehicle and low voltage rail power vehicle, please contact the Perfect technical team by WhatsApp at +86 19337383023.