Heavy Duty Material Transfer Cart Price
Heavy duty transfer cart is a type of material handling equipment designed to transport heavy loads and materials within a facility or between facilities. Generally, it is also called a heavy duty transfer trolley, heavy duty material handling cart, heavy duty industrial cart, heavy duty warehouse cart, heavy load transfer cart, heavy load transfer trolley. Heavy duty transfer carts are commonly used in industries such as steel, workshops, manufacturing, logistics, shipyards, and construction that need to move large and heavy materials over long distances. PERFECT specializes in designing and providing heavy duty transfer carts that can handle even the toughest jobs. If you are looking for one for materials handling, you can contact us today for more details.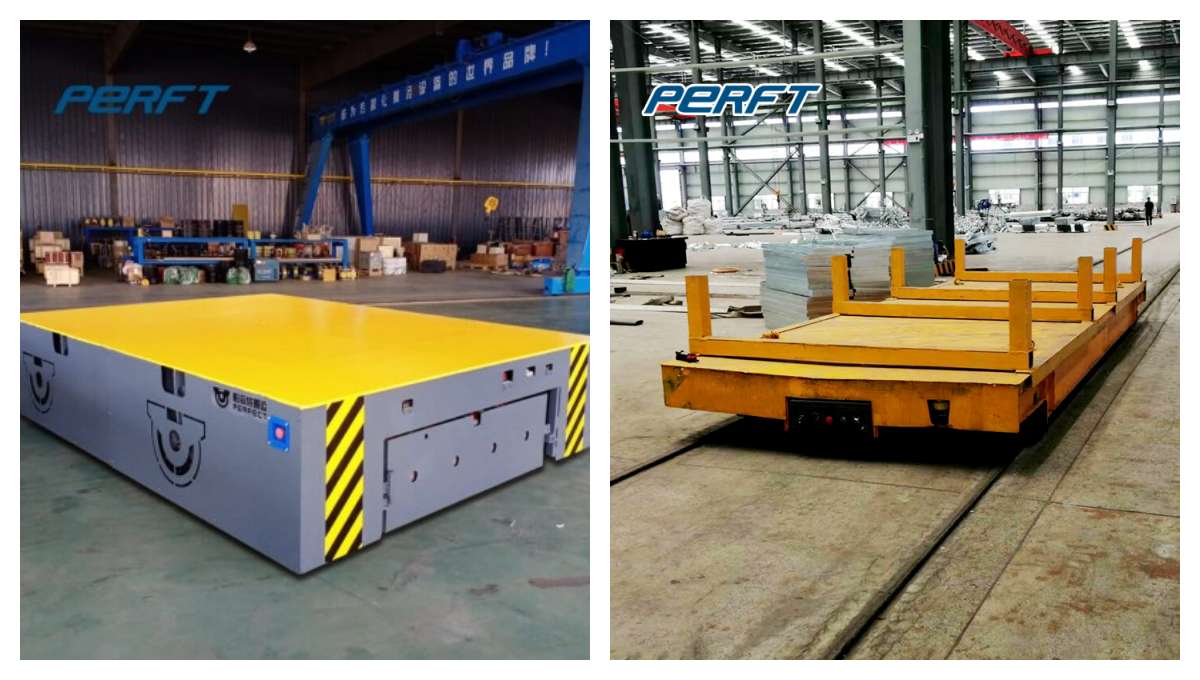 Heavy Load Transporters

Heavy load transporters from PERFECT have varieties of designs for different transportation conditions, commonly including trackless transfer carts, electric rail transfer carts, cable-powered transfer carts, low-voltage rail transfer carts, smarter rail guided vehicles (RGV) and Automatic guided vehicles (AGV), and flatbed trailer-towed transfer carts that are suitable for outdoor operation.
Trackless transfer cart

Generally, it is powered by battery and cable, common load capacity is 5-500t from our clients. Trackless transfer trolley can 360-degree turn flexibly which is very suitable for transferring heavy loads in small spaces and short distances. The cart has large applications, in the steel industry, including aluminum coils, workshops, production lines, container handling, etc., like transferring molds for steel factories and handling heavy duty in the workshop. To discover a wider range of custom trackless transfer carts offered by Perfect, you can also visit another article solution "Trackless Transfer Cart."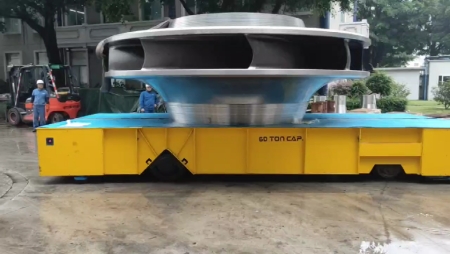 Model BWP
Load capacity: 1 to 500 t
Table size: Customized
Wheel base: 1500–1800 mm
Running speed: 0~20m/min
Wheel material: ZG55+hydropure
Turning type Turning while driving with no stop
Operation method Wire or no wire
Battery maintenance Free of maintenance
Trackless transfer cart parameter

| | | | | | | | |
| --- | --- | --- | --- | --- | --- | --- | --- |
| Model | BWP-2T | BWP-10T | BWP-20T | BWP-30T | BWP-50T | BWP-63T | BWP-150T |
| Rated load (T) | 2 | 10 | 20 | 30 | 50 | 63 | 150 |
| length(L) | 2000 | 3600 | 4000 | 4500 | 5500 | 5600 | 10000 |
| Width(W) | 1500 | 2000 | 2200 | 2200 | 2500 | 2500 | 3000 |
| Height(H) | 450 | 500 | 550 | 600 | 650 | 700 | 1200 |
| Wheel Base (mm) | 1200 | 2600 | 2800 | 3200 | 4200 | 4300 | 7000 |
| Wheel Diameter(mm) | Φ270 | Φ300 | Φ350 | Φ400 | Φ500 | Φ600 | Φ600 |
| Ground Clearance (mm) | 50 | 50 | 50 | 50 | 50 | 75 | 75 |
| Motor Power (Kw) | 1 | 1.6 | 2.2 | 3.5 | 5 | 6.3 | 15 |
| Battery Capacity(Ah) | 180 | 160 | 180 | 250 | 330 | 400 | 600 |
| Battery Voltage(V) | 24 | 48 | 48 | 48 | 48 | 48 | 72 |
| Running Time When Full Load | 4.32 | 4.8 | 4 | 3.5 | 3.3 | 3 | 2.9 |
| Running Distance for one Charge(Km) | 6.5 | 7.2 | 4.8 | 4.2 | 4 | 3.6 | 3.2 |
| Max Wheel Load (KN) | 14.4 | 42.6 | 77.7 | 110.4 | 174 | 221.4 | 265.2 |
Parameters of trackless transfer carts
Motorized rail transfer cart

Transfer with rail cart is Ideal for any type of load, our largest capacity is 500 tons, and dimensions can be customized from our clients' materials, which is more economical and safer. Motorized transfer rail cart is powered by battery, cable drum, cable towed line, busbar, and low voltage 5 types, which is suitable for a variety of material handling and logistics applications, including steel industry(die, steel coils, steel pipes, steel plates), production line, mold industry, ship industry, bridge construction, warehouse, plastic pipes factory, railway, etc. To explore additional models of motorized rail transfer carts from Perfect, be sure to check out another article about "Transfer Carts on Rail."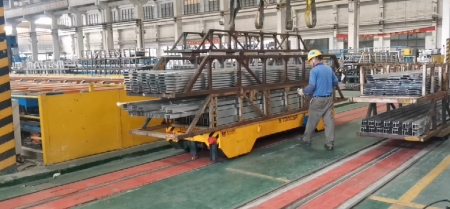 Load capacity 1~1500t
Dimensions Customized
Wheel Quantity 4 / 8
Running speed 0~25m/min
Ground clearance 50 / 75
Power supply battery/cable drum/cable reel/busbar/low-voltage
Custom flatbed trailer towed transfer cart

Flatbed trailer towing transfer carts typically have a flat table for transporting heavy or oversized materials within a facility or between locations. PERFECT can customize functions according to the specific needs of the application, such as attaching fixtures for securing loads, installing conveyor systems, or combining lifting and tilting functions. It is suitable for industries that move heavy loads over long distances, such as manufacturing, warehousing, and logistics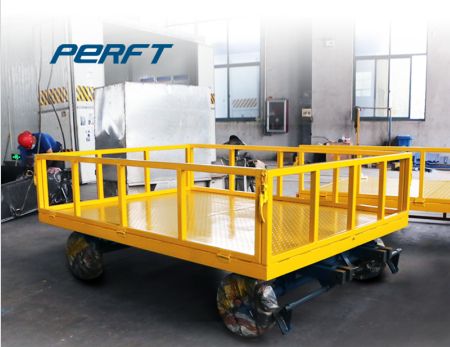 Model BWT
Capacity load 1-500T
Table size Customized
Solid tire Drawbar
Optional accessories Rubber tire
Main configuration Turntable, Spring
Wheel Quantity 4/8/12
Tire Material Press-on solid tire
Heavy Duty Transfer Carts Case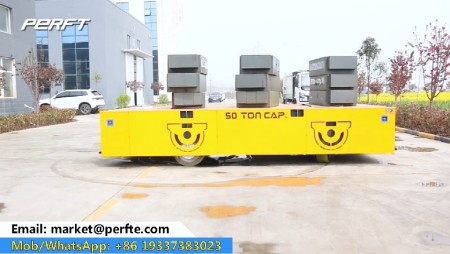 Trackless transfer cart heavy duty 50 ton to Iron
Our client Mr. Hamid from Iron, ordered one trackless transfer trolley for his steel plate in May. 2021, the load capacity is 50 tons. For continued working time, we provided two lithium batteries for his trolley.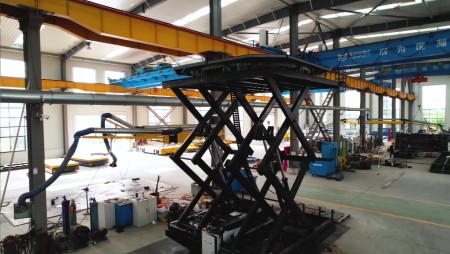 Electric transfer cart 30 tons with hydraulic lift in Pakistan
Our friend Muhammad from Pakistan ordered one 60t electric powered transfer cart with hydraulic lifting for handling storage pallets of tile in September 2022. And he got his cart when he made an order after 53 days.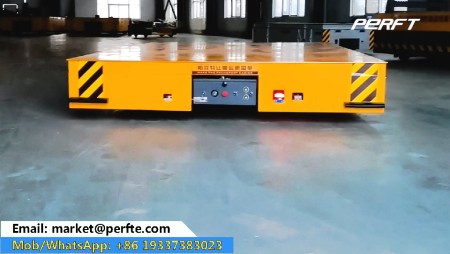 Trackless transfer cart for handling 30-ton molds To India
Our old friend Dhruv from India ordered our battery-powered trackless transfer cart in 2019. His capacity load is 30 tons for mold handling for his steel factory, and for a long working time, another battery is backed up.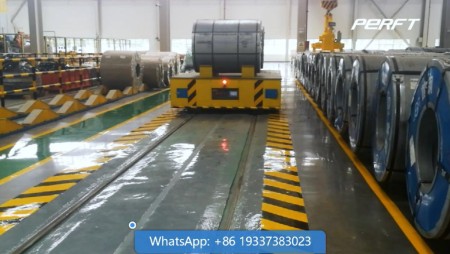 Low voltage rail transfer cart 30t transportation machinery in Malaysia
Capacity load: 30 Material handling: Steel coils
Our client already had a trolley for transportation machinery, but for better work, he ordered one low-voltage rail transfer cart from PERFECT.
If you work in the steel sector, you might read about another industrial transfer cart solution like the Cable Drum Transfer Cart For Steel Castings 30 Ton.
Heavy Duty Transfer Cart Video

Heavy Duty Transfer Cart Functional Customization
1, Frequency conversion startup
2, Explosion-proof occasion
3, Lifting function
4, Rollover function
5, Fixed-point stop
6, Positioning accuracy
7, Mesa precision
8, Scanning radar
9, Track turning
10, Aisle fork
11, Roller support
12, Ultra-low table
12, Anti rollover
13, Climbing
14, WIFI communication
Importance Of Trolley For Material Handling

Heavy duty transfer carts have accelerated the rapid development of the manufacturing industry, and the development of the manufacturing industry will promote the transportation of factories, workshops, warehousing, and logistics. Rail carts have a large load capacity, which is up to 1500 tons, and you can customize your transfer cart according to the handling materials and the road conditions. With the development of scientific research, automatic trackless carts can operate freely in a small space, are convenient and fast, have almost no noise pollution, and are easy to operate, so they are now more popular among our clients.
Heavy Duty Transfer Cart Major Components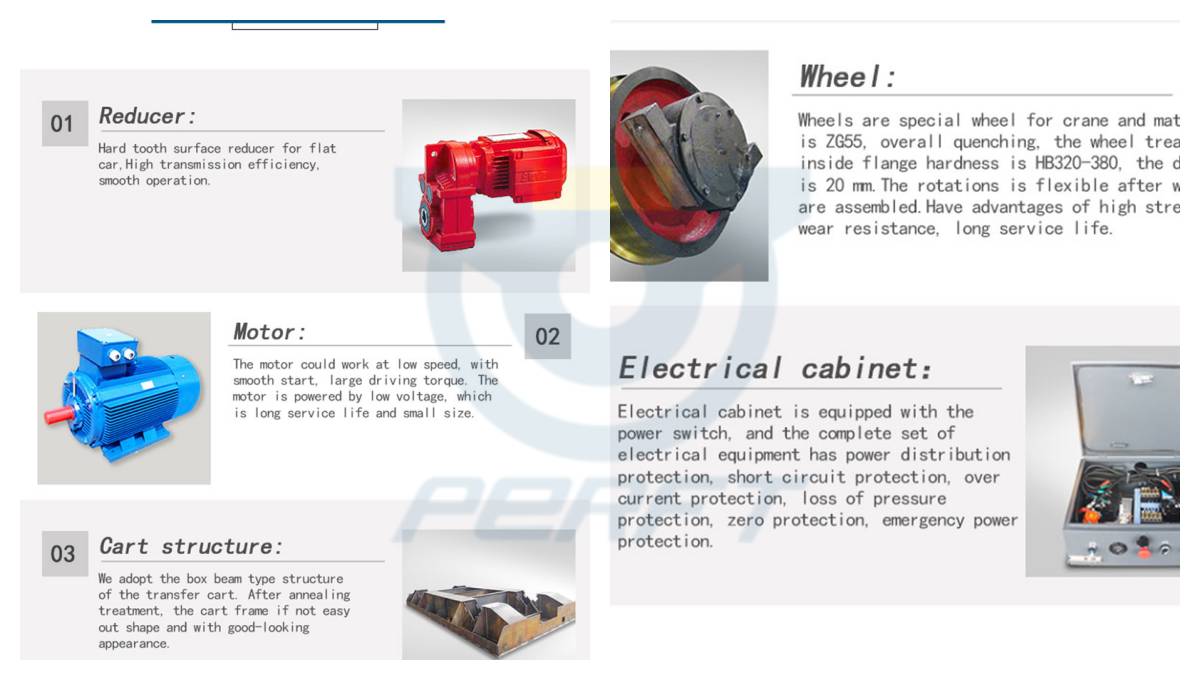 The frame of the trolley: It adopts a box-type beam structure, is not easy to deform, and has a good appearance.
Motor: Can run for high power at low speed, stable starting driving torque, save the reducer, direct drive big load
Wheel: Material is ZG55, whole quenching, hardness of wheel tread, and inner of wheel rim can be reached to HB320–380.
Deck: V-shaped frame, U-shaped frame, double V-shaped frame stand-off, tilting, flat deck, roller support, railing, operating table, etc.
Reducer: Adopts the hard surface gear in a special transfer trolley, which has the advantages of high efficiency, stable operation, low noise, easy installation and maintenance, flexible shaft rotation at all levels, etc.
Factors to Choose Heavy Load Mold Handling Equipment

Capacity load: Make sure that the maximum weight capacity of the cart
Size: You can show us the size of the materials handling
Mobility: Choose suitable wheels and bearings to support heavy loads and show your terrain and floor surface of the facility to ensure that the cart will be stable and easy to operate.
Safety features: Ensure that the molds are transported safely without any threat of damage or injury to workers. like warning equipment, radar control, and brakes.
Power supply: Five types of motorized transfer carts are supplied. Some carts are manually operated while others are electrically powered.
Durability and maintenance: Choose a transfer cart that is durable and requires minimal maintenance. This will ensure that it can withstand heavy usage and last for a long time.
Customizability: Your transfer carts can be customized to meet specific requirements, Such as adjustable heights or tilting angles, frequency conversion startup, fixed-point stop, lifting function, track turning, roller support, V-shape frame, climbing, ultra-low table, etc.
How To Choose A Heavy Duty Transfer Car Manufacturer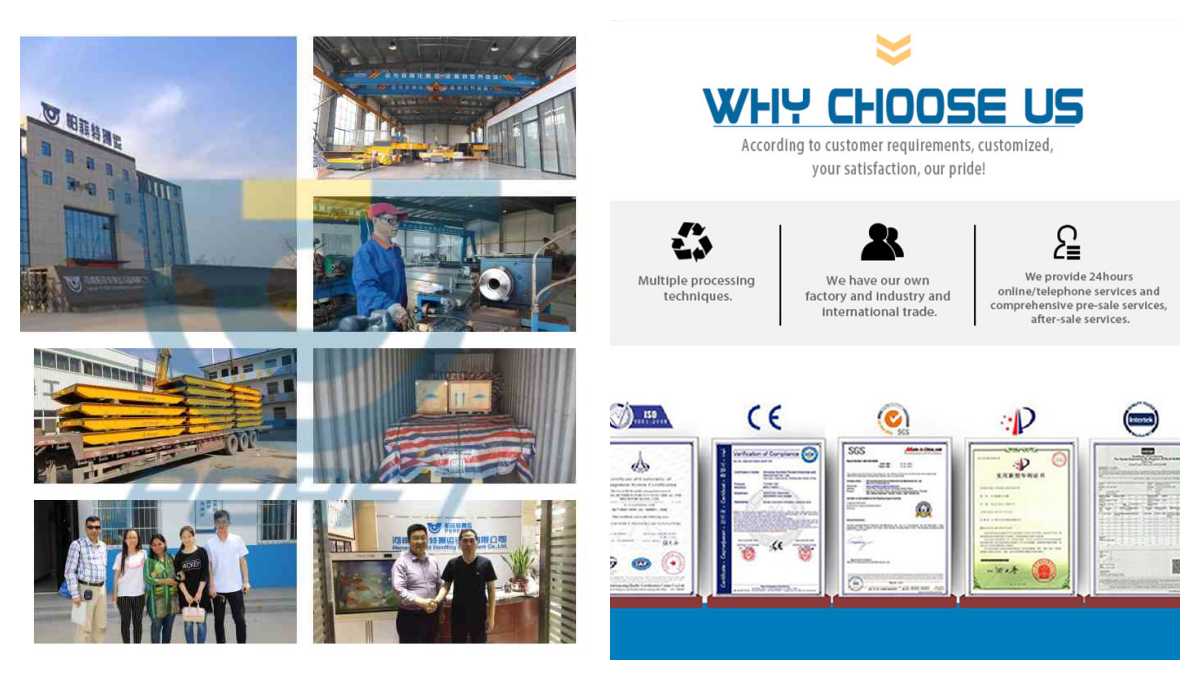 What is the about Perfect Manufacturer?
PERFECT is professional materials handling equipment manufacturer in China, with 15 years of history, now we have 51-100 people in our office, and 20 engineers in our factory, generally, we provide more than 1700 sets of transfer carts every year.
2, How can we guarantee quality?
First, we have CE, SASO, and SGS certification, and ISO9001
Second, we have a serious and rich-experience production process.
Third, your cart will be tested before shipment.
3. What can you buy from us?
Rail transfer cart. Trackless transfer cart. Coil transfer cart. Die transfer cart. Electric transfer cart, Abrasive blast transfer trolley. RGV. AGV, etc.
4. Why should you buy from us, not from other suppliers?
15 years of R&D and manufacturing experience
CE, SGS, ISO certificate
Professional sale team and warm service system
Rich experience in customized functions to meet your different solution
Rich experience in exportation that we provide information during shipment
We can provide a factory price that can help you save more
Our professional after-sales service can help you deal with any problem
If you're in the manufacturing or steel industries, you understand the importance of reliable equipment. PERFECT has 15 years of production experience, providing the best quality equipment and professional customer service. We have exported to more than 50 countries and can ensure that their needs are met. If you're looking for a heavy-duty transfer cart in the market, Perfect heavy duty transfer cart is the better one for you. including electric rail transfer carts, battery trackless transfer carts, and cable trackless carts for mold, and flatbed trailer towed transfer carts for outdoor transport. And Our carts are customizable, safe, and flexible and come in a variety of styles to suit different materials handling applications. Contact us today to learn more about our products and how we can help with your industrial transfer solutions.
FAQ
What are the common applications of heavy duty material transfer carts?
Heavy-duty material transfer carts are used in various industries, including steel production, automotive manufacturing, shipbuilding, and more. They are employed for transporting raw materials, finished products, and heavy machinery components.
How much weight can a typical heavy duty material transfer cart carry?
The weight capacity of heavy duty material transfer carts can vary widely, but they are designed to handle loads ranging from 1 ton to over 1500 tons, depending on the specific model and configuration.
Are heavy duty material transfer carts powered or manually operated?
Heavy duty material transfer carts from Perfect can be both remotely and manually operated or PLC control.
What are the different types of power sources for heavy duty material transfer carts?
Electric batteries, cable reel, cable drum, busbar, low-voltage rails or generators are common power sources for heavy-duty material transfer carts.
Can heavy duty material transfer carts be customized for specific needs?
Sure, Perfect offers customization options to tailor heavy-duty material transfer carts to specific requirements, including table size, load capacity, rollers, lifting, and additional features like automated controls and safety systems.
What safety features should I consider when using heavy-duty material transfer carts?
Safety features may include emergency stop buttons, obstacle detection sensors, railings, and audible alarms. It's essential to ensure that operators are trained in safe usage and follow all safety protocols.
How do I maintain and ensure the longevity of a heavy-duty material transfer cart?
Regular maintenance, such as lubricating moving parts, inspecting electrical components, and checking for wear and tear, is crucial to prolong the life of a heavy-duty material transfer cart. Following the manufacturer's maintenance recommendations is advisable.
Are there any regulatory standards or certifications for heavy-duty material transfer carts?
Depending on your location and industry, there may be specific regulations and standards governing the use of heavy-duty material transfer carts. Ensure compliance with local safety regulations and consider industry-specific certifications if applicable.
Where can I order heavy duty material transfer carts?
You can purchase heavy-duty material transfer carts from Perfect who specializes in industrial handling equipment. We can meet your specific needs.
What are the advantages of using heavy duty material transfer carts over traditional forklifts?
Heavy-duty material transfer carts offer advantages such as greater load capacity, improved stability, and reduced aisle space requirements compared to forklifts.
Can these electric transfer carts be used outdoors, exposed to the elements?
Depending on the design and protective measures, some heavy duty material transfer carts can be used outdoors. However, exposure to harsh weather conditions may require additional customization.
Do heavy-duty material transfer carts come with warranties?
Sure, we offer a two-year warranty.
How can I determine the appropriate cart size for my specific application?
The size of the cart should be determined based on the dimensions and weight of the materials you need to transport. Consult with Perfect sales manager for guidance.
Are there options for adding additional safety features to these carts?
Yes, you can often customize heavy-duty material transfer carts with additional safety features like cameras, warning lights, and proximity sensors to enhance safety.
What is the typical lifespan of a heavy-duty material transfer cart?
The lifespan of a cart can vary depending on factors like usage, maintenance, and the environment. With proper care, many carts can last for several years or more.
Can these carts be used in hazardous or explosive environments?
Specialized carts designed for use in hazardous or explosive environments are available and must meet strict safety standards and certifications.
Are there options for attaching lifting mechanisms or cranes to these carts?
Yes, some heavy-duty material transfer carts can be customized with lifting mechanisms or crane attachments for handling materials with varying shapes and sizes.
Can heavy-duty material transfer carts be used in conjunction with conveyor systems?
Yes, heavy-duty material transfer carts can often be integrated into conveyor systems to facilitate the seamless movement of materials within a facility.
Do these carts require special training for operators?
It's advisable to provide training to operators to ensure safe and efficient operation of heavy-duty material transfer carts, especially for powered or automated models.
What are the environmental considerations when using electric-powered carts?
Electric-powered carts offer environmental benefits as they produce fewer emissions. Consider the source of electricity and explore options for renewable energy.
Q28: Are there maintenance contracts available for these carts?
A28: Some manufacturers and suppliers offer maintenance contracts to ensure regular servicing and upkeep of heavy-duty material transfer carts.
Can these carts be used for transporting hazardous materials? Specialized heavy-duty material transfer carts designed for transporting hazardous materials are available and must comply with safety regulations.
Can heavy-duty material transfer carts be used in tight spaces?
Some carts are designed to navigate tight spaces and narrow aisles, making them suitable for facilities with limited maneuvering space.
To discover more varieties of heavy-duty load transfer carts by Perfect, consider reading another article on Industrial Transfer Carts for Material Handling.