Cable Drum Transfer Cart For Steel Castings 30 Ton
Parameters from Cable Drum Transfer Cart For Steel Castings
Load capacity: 30T
Table size: 4000*2200*600mm
Power supply: cable drum
Running distance: 35m
Running speed: 0–20 m/min
The medial distance of the rail: 1400mm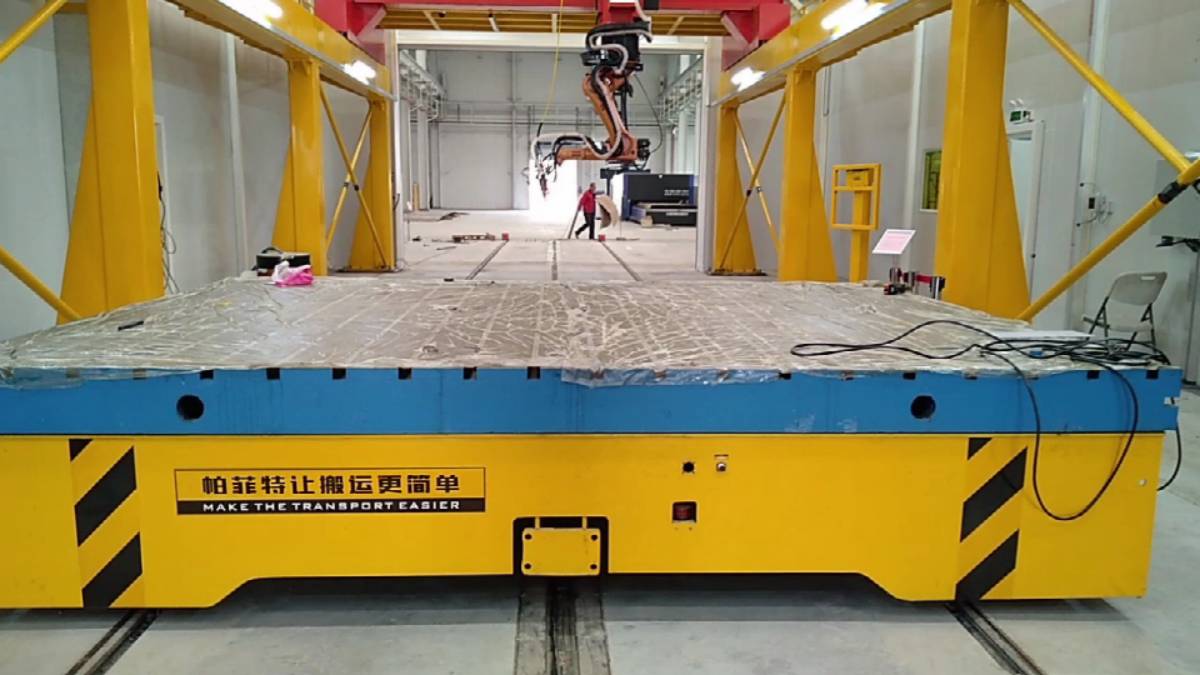 Cable Drum Powered Transfer Cart from Perfect
In factories, cable drum powered transfer cart for heavy load handling is more practical, which alludes to cable drum being mobile. When employed, a cable drum is more versatile and convenient. It features outdoor power supply lights wound on the wire coil, industrial sockets, and leakage protection. It is simple to carry in a comfortable position as needed. Transfer cart has a motorized drive system that is powered by the cable drum. This system enables transfer cart to go forward, backward, and occasionally even spin. These cable drum transfer carts can carry loads weighing 2 tons to 500 tons. Cable drum powered transfer carts from Perfcet can often be customized to meet specific requirements. This can include load capacity, dimensions, control systems, safety features, and attachments for specialized handling needs. The goal of a cable drum driven transfer cart is to move large or bulky objects over short to medium distances, such as raw materials, completed goods, machinery, or equipment. These carts are frequently used in businesses that need effective and adaptable material handling solutions, including power generation, steel smelting, drainage treatment plants, petrochemicals, manufacturing, storage, logistics, and construction. For more types of heavy-load transfer cart from Perfect, you can also read another article about Industrial Transfer Carts For Material Handling.
Advantages of Cable Drum Transfer Cart For Steel Castings
Load capacity from 2 tons to 500 tons
Anti-leakage devices can be cut off in time
The material is high-quality, durable, and provides anti-burning, overheating protection
Continuous operation without the need for frequent recharging or refueling
In November 2018, Perfect developed a 30T cable drum driven transfer cart for Liaoning Heavy Industries Co., Ltd. of Kaiyuan, Liaoning Province. This order is mostly used to transfer newly released steel castings, which require insulation and protection for the motor, reducer, and electrical appliance. Additionally, our customer requested that we create a 100-mm height along the side of the vehicle so that we could lay refractory bricks, heat insulation sand, and other heat insulation materials. A frequency converter has also been added to the transfer cart, which makes it possible to change the running speed and enhance the cart's performance when it comes to safety.
Cable Drum Transfer Carts VS Diesel Transfer Carts
Initial cost: Compared to cable drum powered transfer carts, diesel powered transfer carts typically have a greater upfront cost. Diesel-powered carts must be equipped with an internal combustion engine, a fuel tank, an exhaust system, and other related parts, which can raise the cost at first.
Operating costs: Transfer carts powered by cable drums typically have lower running expenses than carts powered by fuel. Diesel powered carts need to be refueled frequently, which increases ongoing costs. As opposed to this, cable drum powered carts use electricity that is delivered through the cable drum, which can be more economical, especially if the electricity is generated on-site or is acquired from a provider who charges a reasonable rate.
Maintenance and repairs: Due to the complexity of their internal combustion engines, diesel powered carts often require more frequent maintenance and repairs. Oil changes, filter replacements, and engine inspections are all part of routine maintenance. On the other side, cable drum powered carts feature simpler electrical driving systems, which could mean lower maintenance expenses.
Fuel availability and price: The availability and price of diesel fuel can vary depending on the region and market conditions. If diesel fuel is readily available and reasonably priced, the cost difference between diesel-powered and cable drum powered carts may be less significant. However, if diesel fuel is scarce or expensive, cable drum powered cart's reliance on electricity may offer a more cost-effective solution.
Environmental considerations: Transfer carts with diesel engines emit emissions while in use, which adds to air pollution and carbon emissions. In contrast, if the electricity is obtained from renewable or low-emission sources, cable drum-powered carts emit no emissions on the premises. In terms of compliance and potential long-term savings, cable drum driven carts can present a more appealing and affordable alternative depending on environmental standards and sustainability goals.
In the end, a range of factors, such as the size of operations, the cost and availability of fuel, the cost of electricity, the need for maintenance, and environmental concerns, affect how cost-effective diesel-powered and cable drum-powered transfer carts are. To identify the best cost-effective solution for a specific application, it is crucial to assess these criteria and undertake an extensive cost study.
It's important to note that Perfect also produces additional transfer cart varieties, including rail guided carts, battery powered carts, and diesel-powered carts. Individual application requirements, load capacity, operational environment, and budgetary concerns all play a role in the transfer cart selection process.
if you need an abrasive blasting rail transfer cart, you can read another article: Battery Powered Abrasive Blasting Booth Rail Guided Carrier.